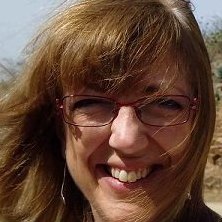 Paula Chaffee Scardamalia, dream consultant for PEOPLE magazine, Country edition, is a book coach and a dream and tarot intuitive. Since 1999, Paula's taught writers how to use intuitive tools like dreams and tarot to write stories from the deepest part of their imaginations. She's taught at small private workshops and at both regional and national conferences, and leads intimate writing and dream retreats. Paula regularly coaches clients on developing their books and their writing careers.
She lives in an 1840's Greek Revival farmhouse in the foothills of the New York Catskills with her husband Bob and is the mother of three sons and grandmother of two grandsons. Her dining room is pink in an effort to balance out all that male energy.
Visit Paula at www.diviningthemuse.com
How They Met
Listen to the brief audio below to learn more about Paula and how she and her husband Bob met.
PaulaScardamalia-HowWeMet