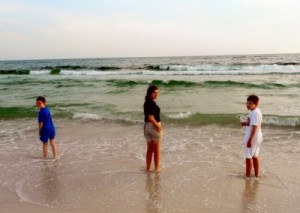 In August of 2011, we went to the beach as a family. I had a great time relaxing and hanging out with my kids. I had actually taken most of the summer off already. My business could run itself and bring in consistent revenue, yet I was burnt out. My business wasn't lighting my fire anymore. I was pleasing everyone but myself and didn't have the energy to enjoy my life. Maybe you know how that feels… Maybe you've asked yourself, "Is this all there is to life? There's got to be more!"
So, I spent the last week of that summer in Seagrove Beach, Florida enjoying the beautiful white sands and the breathtaking sunrises and sunsets. I didn't think about business at all. I cleared my mind and enjoyed that time with my children, but my husband was disengaged from the activities, primarily staying in the bedroom.
On the way home in the van, I was sitting in the front passenger seat thinking, "I can't do this anymore." I had confronted my husband a year earlier about issues we had. We worked on our communication, and he had made some changes. But none of that was helping. I was in pain and felt as if I was dying a little every day in the marriage. On this drive back from the beach, I decided my life had to change.
I had been journaling in a way that helped me start to identify what I was looking for in my life – how I wanted to be treated, how I wanted to feel in my marriage relationship, how I wanted my life to be. So I had already started to get clarity. On the drive home I painted a mental picture of a truly engaged, connected, passionate relationships not only with my spouse, but also with everybody in my life. I decided how I wanted to travel, speak and enjoy the work I was doing and be passionate about it. I was feeling dead at that point and I wanted to feel alive again.
As I began envisioning this connected, passionate life, I knew I wasn't capable of keeping up with it energetically. I was worn out, overweight and emotionally numb. About the only emotion I felt was excitement about something going on in my business or I was ticked. Other than that, I was flat emotionally. Anytime I was angry, I had to dig down to figure out why. It might take me 2-3 days to understand what I was feeling. I was numb and had quit expressing myself in my home environment.
My sister summed it up best, "You're out here stirring up the world, but you won't stir a teacup in your own home." I wouldn't rock the boat. It was peace at any price. I became the workhorse with blinders on who made sure everyone else had money for their toys. I didn't want to have any conflict.
Other people's emotions were more important than mine. Considering I was disconnected from mine, it was easy to make theirs more important.
I had this need to be the "good girl," to always do the right thing. I had to be a superhuman who could do it all. I'd pat myself on the back if I could patch a water line and then go inside and earn a living. It was a Wonder Woman complex.
So I was out here looking one way to the world, but inside and in my home, there was this incongruity. Eventually, I could not deny the unsettling feeling rising within me.
If I wanted my life to change, I had to change.
When I got home, I started taking consistent, daily actions to get healthy, fit and energetic so I could enjoy the life I envisioned coming my way.
This decision on the ride home from the beach set in motion a series of events that enabled me to become the person I envisioned and have the life I wanted. Some of the things were wonderful and completely in line with my vision. Others were difficult and painful. Amidst it all, I learned that I could find joy and have an amazing life even when things are difficult.
A year after the pivotal beach visit, Google changed the nature of article marketing and I literally lost my multi-six figure business overnight. At that point, I decided to pursue my passion of helping entrepreneurs with powerful messages, methods and systems to share. The problem was, I wasn't exactly sure how I was supposed to help them. Discovering how God wants me to serve them became my quest.
As I write this in September 2015 (4 years after the beach ride), here's what's different…
I've gotten out of the difficult marriage and am married to a wonderful man who appreciates me in every way,
released 54 pounds,
reconnected to my emotions,
have an ever-growing network of supportive friends and colleagues,
am happy with the person I'm becoming,
have a greater understanding of what really matters in life,
>am able to navigate tough challenges with more peace and grace than ever before,
finally feel free to be me, to live my life on my own terms.
have created systematized methods for helping people with important messages to share, package and deliver their solutions to the world.
No, my life isn't perfect. I still have challenges. But there is a trust in God that wasn't there before. I'm co-creating my life with God. In the process, I've learned that you can't take anything to a higher level of order without creating some chaos first – not a closet, not a house, not a life, not a planet. I've learned to make peace with chaos, because I'm watching God transform chaotic areas of my life into greater levels of harmony and order.
It's all a process.
If you're interested in hearing more about my journey with co-creation, chaos and order, you might enjoy my 99 cent Kindle book, "Stop Blaming God or the Devil for Your Mess." If you're interested in hearing about my relationship journey — meeting and marrying the man of my dreams click here to read my Quest for Love blog series.
If you're going through a similar transition, I'd love to work with you. Click here to find out more.
CONTACT
514 Old Hickory Ln
Ringgold GA 30736
T: (706) 866-2295
E: marnie@marniemarcus.com