"6 Steps To Finding The Man Of Your Dreams While You Can Still Enjoy Him!"
Are you a successful career woman who'd love to have it all, but you keep running into relationship issues? You long to be married to a man who truly "gets you" and values you for who you are.
You're looking for a man you don't feel the need to "fix."
Don't lose hope. It is possible! Even for women like us in our forties and beyond, true love is possible! It may feel like all you have left to choose from is other women's cast-off's, but there are some true diamonds out there. Believe me! I found one!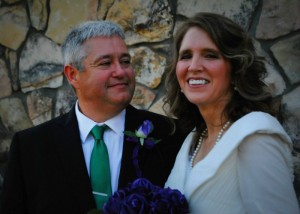 Hi! I'm Marnie Marcus. After six children and 28 years of marriage, I found myself divorced, back in the dating world and navigating an entirely different planet than I remembered from age 19. I quickly discovered that online dating is an adventure in fine tuning your discernment. Rarely is anything as it appears. While I met and dated some decent men, none were willing to commit. None seemed to truly value me for all the aspects of who I am.
I spent two years in and out of relationships before everything changed. Just when I was ready to bag it, forget marriage, and resign myself to being a single woman forever, something clicked. Something MAJOR shifted. Within a few short months (May of 2015) I found myself dating a man who pursued me... who instantly saw my value and wanted to commit to me wholly and completely. By July 25, we were engaged and on September 4, 2015 we were married.
Talk about a whirlwind! But I knew deep in my bones it was right. The man of my dreams had come out of nowhere like a lightningbolt ... once I changed my thinking ... once I changed what I was expecting. Now I enjoy the connection, love and acceptance that I dreamed of.
The journey began a few years ago when I decided I had to get out of the 28 year marriage. I caught a vision for what was possible. Over the course of my single life I traveled through ...
"6 Steps to Finding the Man of Your Dreams"
STEP 1:

Decide what you want. This isn't as easy as you think. Sometimes what you think you want isn't good for you. And sometimes we haven't seen enough good modeled to know what we want! That's the main reason I'm putting together the Having It All Summit and book -- so you can see what good marriages look like and that they ARE possible.

STEP 2:

Become the woman capable of receiving your dream man. We attract to us, not what we want, but what we ARE. Finding your dream man requires becoming a woman worthy of him.

STEP 3:

Take some calculated risks and experiment. You won't find the man of your dreams if you don't put yourself out there. There are wise and safe ways to do that. Dating and getting to know different men is helpful because it allows you to discover what you want and don't want in a relationship.

STEP 4:

Align with your vision. If you have old patterns or beliefs that are out of alignment with your vision, you will continue to sabotage yourself. Aligning your thoughts, beliefs, expectations and emotions with your vision is paramount.

STEP 5:

Know how to deal with your emotional hot buttons, aka "emotional landmines." Let's face it,  other people push our buttons. In any relationship you will encounter things that set off emotions in you that seem to come out of nowhere.  Understanding that it's rarely about the other person and more about ourselves and what is being brought up from our past is key. An awareness of your "emotional landmines" and disarming them, can help you create healthier relationships.

STEP 6:

Release the outcome. You know what you want. You've gotten clear on it. You're becoming the woman capable of receiving it, now let go of the outcome and trust the process.
Combining everything I'd learned about the laws of abundant living (including the law of attraction, cause and effect, etc) with cutting-edge energy therapy techniques I'd learned as a Certified SimplyHealedTM Practitioner, I was able to more smoothly navigate the roller coaster relationships, heartbreaks and keep putting myself out there. I shudder to think where I'd be had I not been prepared to handle this ride with those tools.
As I watch other women like yourself navigate this world, I want to reach a hand back and help you come through the obstacle course with fewer bumps and scrapes and find the man of your dreams.
That's why I've put together my 6-month Find the Man of Your Dreams Mentoring program. It includes personal guidance from me through each of the 6 steps AND all the energy therapy you may need to navigate those steps smoothly.
Each of the 6 months we work together, we'll focus on a different step in the process. So by the end of our 6-months together, you will have all 6 steps securely in place. You'll be aligned with finding the man of your dreams and ready to receive him.
Here's what's included:
Month 1: Know What You Want in a Relationship So You Can Call It To You. You'll receive two 50-minute private phone sessions with me where we'll discuss what you really, truly want and need in a relationship. I'll be giving you assignments, mentoring and energy therapy to assist you in gaining a clear picture of your ideal relationship.
Month 2: Become the Woman Capable of Receiving Your Ideal Mate. You'll receive two 50-minute private phone sessions with me. We'll focus on helping you identify who you need to be to attract the relationship you desire. We'll craft a do-able roadmap for you to follow. You'll have a clear plan for any adjustments that will prepare you to receive the man of your dreams. Through the 6 months I'll be acting as your mentor, holding you accountable for your new way of life.
Month 3: Have a Plan for Making Yourself Available for Your Ideal Relationship. You'll receive two 50-minute private phone sessions with me where we'll craft a plan for you to put yourself out there and make yourself available for the relationship you desire. This could look different for every woman. So we'll work together to craft your boundaries, things you won't accept in relationships, and safety precautions. If you decide to use online dating, we'll even work on your online dating profile if you'd like.
Month 4: Align with Your Vision and Draw It Into Your Life. You'll receive two 50-minute private phone sessions with me where we'll work on releasing past patterns of self-sabotage, unhealthy repeating cycles, past trauma, and limiting beliefs.
Month 5: Easily Identify When You Hit an "Emotional Landmine" and What to Do About It. You'll receive two 50-minute private phone sessions with me where we'll identify false beliefs, old patterns, or past traumas that lie in wait to explode. As you learn to identify and deal with these emotional landmines swiftly you'll be positioned to know which relationships to release and which ones to pursue. You'll also know how to deal with them without damaging good relationships.
Month 6: Open Yourself Up to Miracles. As you release the outcome, you allow God and all the forces of the universe to bring your ideal relationship to you in ways you never imagined.  You'll receive two 50-minute private phone sessions with me to help you release the "how" and the "outcome" while still staying connected to your vision.
PLUS, Get Resources to Help You Stay On Track and Apply the Information to Your Life
Each session will be recorded and you'll receive the MP3 for your own personal use. I'll also be providing you affirmations, handouts and assignments to fully implement the material each month.
Emergency Support
You're out on a date and it's going great, but then he says or does something that causes a rise of unwanted emotion. You aren't sure where it's come from. Why are you feeling this way?  Don't let this throw you for a loop, shoot me a private Facebook message or text, and I'll help you work through it. There is no reason to remain stuck or debilitated.
I strive to reply within 24 hours during workdays (Monday - Friday). I'll get back with you, clear anything energetically that may be standing in your way and/or give you some insights on what to do next.
Because of the intense personal support I give my


6-Steps to Finding the Man of Your Dreams


clients, I only have 5 spots available.

To grab your spot, please use one of the links below.
Only $379/month
for 6 months
Disclaimer
I am NOT a certified relationship coach or therapist. I am a woman who's been on a journey and learned some things along the way. I am a Certified SimplyHealed PractitionerTM and do know how to help people quickly and easily remove things that stand in their way -- everything from false beliefs, old patterns and blocks, traumas, etc. so you can create new patterns and move forward. I also cannot guarantee you'll meet the man of your dreams. Only God can do that! But you will make great strides toward getting clear about what kind of relationship you want and becoming the person able to attract that relationship. You also will be happier and more fulfilled in yourself.
What's the difference between Energy Therapy and Talk Therapy?
Generally in "talk" therapy there is a lot of going over the same issues, which can take lots of time and many sessions. When working with energy, you don't have to relive every detail of a past trauma in order to release it from your system. Your inner wisdom already knows all the details; we just need to find the emotion(s) held with that memory. Through certain techniques, those emotions (anger, fear, betrayal, etc.) are released from the body AND the energy field. This doesn't erase the memory of the incident, but releases the emotional potency of it, so it is no longer a barrier in your life. Energy Therapy gets to the root of the problem on an energetic and emotional level effectively and efficiently.
Marnie is a Certified SimplyHealed PractitionerTM and is trained in this form of energy therapy, which she also refers to as belief-shifting work.
Learn more about the science of energy work here.