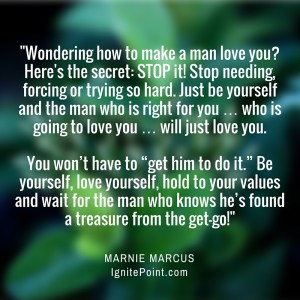 I saw this post about "How to Get a Man to Love You." I spent time during my dating years reading stuff like that. Trying to figure out how men tick and what I was supposed to do to "make a man love me."
Here's what I discovered… STOP trying to make a man love you. That's the problem! You care too much. Stop needing, forcing or trying so danged hard. Just be yourself and the man who is right for you … who is going to love you … will just love you.
You won't have to "get him to do it." Be yourself, love yourself, hold to your values and wait for the man who knows he's found a treasure from the get-go!
Here's how I used positive affirmations to retrain my brain and found the man who instantly saw my value and loves me for me.

Marnie (Pehrson) Marcus helps people and companies leverage their wisdom and stories to create visibility, education, influence and sales in the marketplace. Whether she's helping an author, coach or self-help professional distill her wisdom into books and information products or helping a corporation create visibility and educate their customers, she focuses on creating connection and loyalty. Marnie helps her clients lead with their stories, connect from the heart, educate their market, and create loyal customers who send word-of-mouth referrals. She offers a unique combination of practical done-with-you and done-for-you solutions with the ability to help her clients get past the emotional and mental barriers to success. Visit her online at MarnieMarcus.com