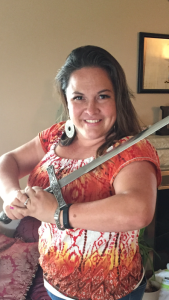 My friend Martina Muir posted in her Warriors of Light group about how she can be peaceful and love others yet still be willing to fight for truth and what's right. She's a ready warrior if the call comes.
I love this about Martina. It's also one of the things I love about my husband. He models this blend so well.
People love him. He's kind and remembers every child that goes through the schools. Whenever we leave the house, we're always running into "one of his kids."
Yet as former Air Force and currently a School Resource Officer, he has a strong sense of justice and is ready and willing to fight for the truth, for principle, and to protect others with his life.
It's fun to watch the blend of tough and tender, justice and mercy, serious and silly, diplomatic and blunt wrapped in one package. Before knowing him I wouldn't have believed such a contrasting combo could exist inside one person.
I'm more of a peace person. But I will use the power of the pen to stand up for truth. I'm the pen and he's the sword.
One of the beautiful things about a good marriage, I think, is the new blend created by the partners' combined strengths.

Marnie (Pehrson) Marcus helps people and companies leverage their wisdom and stories to create visibility, education, influence and sales in the marketplace. Whether she's helping an author, coach or self-help professional distill her wisdom into books and information products or helping a corporation create visibility and educate their customers, she focuses on creating connection and loyalty. Marnie helps her clients lead with their stories, connect from the heart, educate their market, and create loyal customers who send word-of-mouth referrals. She offers a unique combination of practical done-with-you and done-for-you solutions with the ability to help her clients get past the emotional and mental barriers to success. Visit her online at MarnieMarcus.com